Ling
Fished offshore today but we did not have to go very far. Started out catching a limit of snapper then we caught a few kings, blue fish, grouper, lady fish, and one big jack. On the way back in we stopped on some bait and caught a king and all the sharks you wanted, they were really turned on and circling the boat eating every bait we threw them. Caught a good ling that followed one of our sharks to the boat.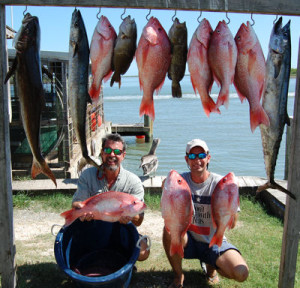 Fished for snapper and kings in state waters today and ended up with a nice limit of snapper, one ling, and a limit of kings but we only kept 2. The high and low point of the day was right before we headed in we were tied up to a rig 6 miles off the beach catching a few kings and a big sailfish swam around the boat for a couple of minutes, we tossed some dead shad at him… Continue reading →
Great day today. Lots of storms all around us but we never got wet. One good thing about stormy weather is that it is much cooler. Fishing was as good as it gets, limits of snapper and kings, two nice ling, a few sharks and jacks. We are catching some big snapper in state waters right now. We are shark fishing tomorrow.