Lake Texoma Striper Fishing Reports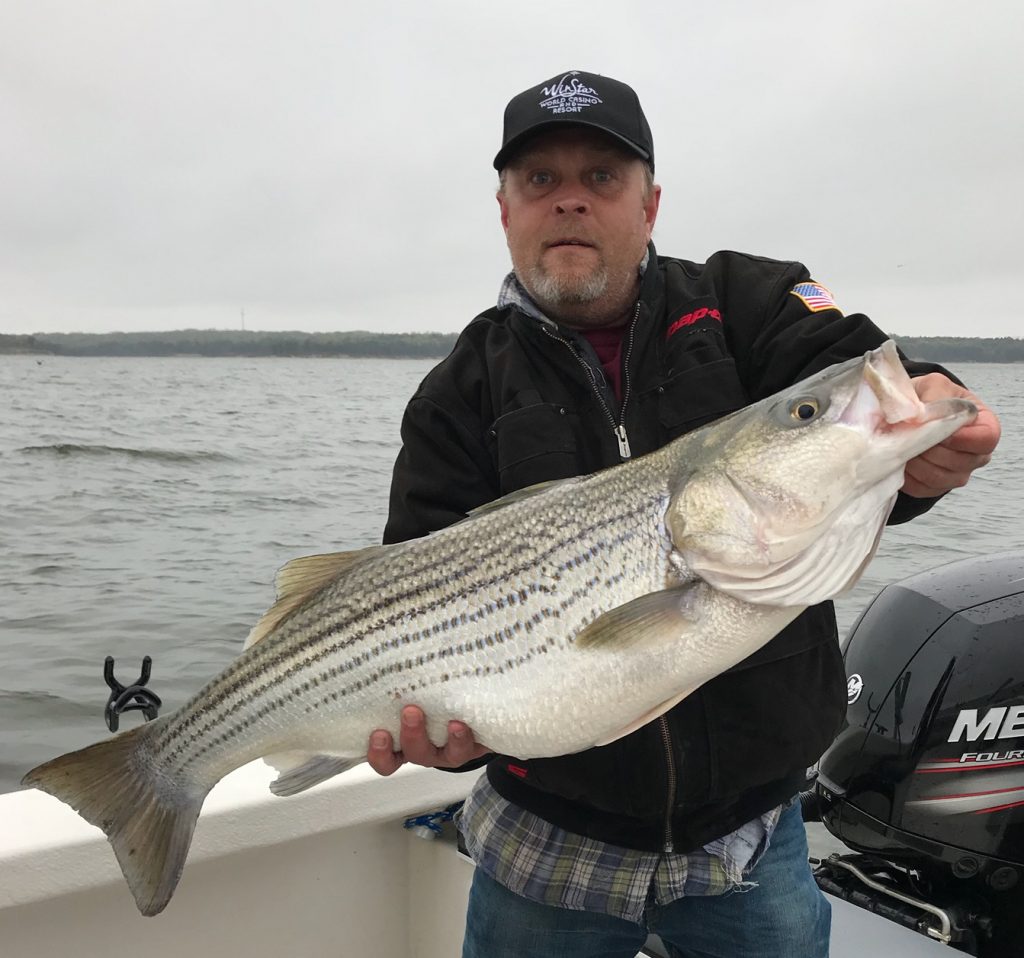 Lake Texoma Fishing Report Tuesday April 3,2018. Lake elevation is 616.51 and water temp at the dam is 58 degrees. Fishing this time of year is up and down much like the weather but it's like anything else in life you have to take a risk for the big rewards.
May and June are usually a sure thing but if you are looking for the biggest striper of the year late February-mid April is usually your best shot at a trophy size pre-spawn striper. Fishing has been very good on Texoma the past few weeks for big fish and numbers have also increased over the last few days. This time of year fish can be any depth and anywhere on the lake so you just have to put in your time and take a chance.
I prefer 5' swim baits in glow and chartreuse color this time of year but live bait can also be effective so for your best chance at a Texoma trophy striper book your trip now with your favorite Lake Texoma Striper guide and if you don't have a favorite do your homework before you choose one.
Take a chance and you just might be rewarded with a fish like this 20.5 lb that we caught April 2nd.
Good Luck !!!
Capt. Steve Barnes Lake Texoma Striper Guide
March 20, 2018
Lake elevation is 616.62 and water temp has warmed up to 57 degrees. With the water heating up the striper fishing just keeps getting better and should continue to improve as water temp rises more. Limits of box fish (striper under 20") are being caught drifting live shad in the river channel and up on the flats.
Larger fish are in a pre-spawn pattern and staged up on shallow structure in 10-25 foot. Lots of big striper caught last week and the pattern should hold thru early April. Trolling and casting swimbaits and A-rigs in the usual colors,chartruse and glow.
Most of the action is midlake since upper ends of the lake are still pretty muddy. Flood gates are open releasing 6,0590 cubic feet a second but with the current lake level I look for gates to be closed at anytime and water should clear up on the upper ends but since it is spring time we could get more rain and more stained water.
2018 look so be the best fishing we have had since 2014 so get your Lake Texoma striper guide trip booked today.
February 28, 2018
Texoma striper fishing slowed down during late Feb, But Spring is about here and fishing should improve a great deal. We need the water temp to move up in 50+ degree area -- Currently it is in the 40s. As it warms up the bait fish (shad) will move to shallower water around the flats and humps.
With Spring, we can catch stripers on pretty much any lure -- swimbaits, jigs, Umbrella-rigs and live shad. If you catch the fish in deeper water try drifting live shad through the holding areas. But, it easier and faster if you can find fish in the shallows because they move in groves to the flats to feed on baitfish. Striper are much more aggressive in the slallows.
2018 looks to be a great year for striper fishing on Lake Texoma.
A TPWD recent gill-net survey show the striper population increasing over previous years with a good number of 20 inch fish.  TPWD biologists also said the 2017 survey had the highest growth rate ever recorded on Lake Texoma.
Get Fishing!
Methods of Payment
We accept cash, personal checks, money orders, debit cards, and all major credit cards.
(Debit and Credit Cards transactions will have a 3% fee added).