Special Lake Texoma Fishing Reports
Nov 11, 2019
by Capt. Steve Barnes Lake Texoma Fishing Guide
Gulls Working Striper All Over the Lake
Well looks like winter is here early. Gulls working on schooling striper all over the lake.
Looks like we are in for some great striper fishing this winter on Lake Texoma. Winter is my favorite time of year for striper fishing. I prefer to fish artificial baits and more often than not artificial will out fish live bait in the winter time for size and numbers.
Texoma has cooled into the mid 60's so fish are aggressive and can be caught on a variety of lures. Swimbaits, slabs, and trolling A-rigs work very well in working birds right now. As the water cools into the 50's the dead stick bite will start to take over but we will talk more about that in a later report. Bundle up and get out there the fish are on the biggest schooling time of the year.
Oct 3, 2019
by Capt. Steve Barnes Lake Texoma Fishing Guide
Fall is Here and Striper Fishing is Heating Up
We had a great summer on Texoma this year but summer keeps dragging on. I'm ready for some fall weather and if the forecast is correct we should finally see some cooler weather next week.
Fishing is still very good despite the heat but the cooler weather will improve the fishing and make it even better. I have been trolling A-rigs but have heard of fish being caught on slabs, swim baits, top waters, and live shad. Fish have been schooling up on the surface in just about every depth of water but primarily on the flats in 20-40 foot. The cold fronts will bring gulls from up north so schooling fish will be easier to locate.
Fishing should be excellent and very consistent from now until it gets very cold in January or February. We might hit a little bump in the road when the lake turns over in a few weeks but it will be short lived. Bigger fish will get more active with the cooler weather.
Boat traffic has made the weekend fishing tougher this summer but should ease up some with hunting season getting started. Fall is a great time to fish Lake Texoma so call or text me for available dates. Capt. Steve 940-841-0910
June 20, 2019
by Capt. Steve Barnes Lake Texoma Fishing Guide
Fishing on Lake Texoma has been an absolute slaughter this spring for big fish. Daily bag limit for striper on Texoma is 10 but only two can be 20 inches or longer and most of the fish we are catching this year are over 20 inches. I guess it's a good problem to have but in reality we should be harvesting more of the larger fish this year.
Here is my theory on what is happening. Flood gates were open most of the winter and I believe we lost a big portion of shad, stripers natural prey, thru the floodgates. So now we have a huge population of fish with not near enough food to go around and the end result will probably be a summer die off of larger fish that will balance it back out. But the fish that die off are fish that could have been harvested for the better of the lake. So why not change the limit to fit the current population of striper? Because you are dealing with two states on a border lake and it takes at least a year to change the laws. By the time you get it changed it's to late. What I have been told is the limits are set to kinda work for average years. I can see where it would be confusing to the general public if you changed the limits every month so I have an idea that might work — There are hundreds of striper guides on Texoma and I would bet that they account for the vast majority of striper harvest on Texoma. If the guide limit was set once a month it could be changed more often to benefit the guides and the striper population. Separate the guides from the recreational side, manage them separately. I would even support limiting the number of guides on the lake. Seems like we get more guides every year and the lake can only take so much. You can't keep increasing the number of guides. I'm willing to put my money where my mouth is and help pay for improved management, I have always said that a $2,500 annual guide fee would really help clean up the business and provide some management funds.
Anyways back to the fishing. If you can get some shad the fishing has been incredible on ledges and humps in 20 to 50 foot water. Topwater bite has been coming around and I'm betting that slabbing and trolling will be on in another week or so. Shad seem to be coming back and there is small shad all over the lake with 6-12 inch striper schooling on them every day.
Just a matter of time till the shad get big enough to attract the larger fish , usually late June early July. Most guides are staying booked up so better get booked if you want in on the action this summer. Check out this video hand feeding the striper at the cleaning table https://www.facebook.com/CaptSteveBarnes/videos/398618610819933/
April 23, 2019
by Capt. Steve Barnes Lake Texoma Fishing Guide
Lake Texoma striper fishing is really going strong, with the water temperature rising the fish get more active.
I made the switch from artificial bait to live bait last week, as I do every year about this time and the success rate has been 100% on getting limits every trip. The down side is that bait is pretty tough to catch.
Floodgates were open most of the winter and my belief is that we lost a lot of baitfish that got flushed thru the flood gates and washed down river.
Hard to predict what the summer fishing will be like with the bait numbers down but with my many years of experience I would suggest getting after them in May and June. I would also suggest you leave your cast nets at home and just hire a Lake Texoma fishing guide and let them worry about how to catch the bait.
March 21, 2019
by Capt. Steve Barnes Lake Texoma Fishing Guide
Lake Texoma striper fishing has really come alive this week with the arrival of spring. Big striper are on a feed frenzy getting ready to make their annual spring spawning run up the Washita and Red rivers.
As the shallow waters warm fish move up out of the river channel to feed on shad. The fish are on the move so anglers need to be persistent and stay on the move looking for active fish.
My bait of choice for early spring is a 5″ swim bait on a 1oz jig head. Trolling is also effective this time of year and on days when my customers can't cast well we troll. The last few days the big striper have been on a tear and we have been releasing many over 20″ fish on recent trips.
Remember limit on Lake Texoma striper is 10 fish per person but only 2 of those 10 can be 20 inches or longer. The good box fish will turn on as it warms up a little more but for now we will enjoy catching lots of big Texoma stripers
February 18, 2019
by Capt. Steve Barnes Lake Texoma Fishing Guide
You know its about spring when the red birds start singing their song.
March is big fish month on Texoma — Big fat prespawn fish will move up out of the deep water to feed before making their annual run up the river. February fishing is ok but I love the springtime so I spend some of my time in February for boat maintenance and preparation for the upcoming season. I can't believe its Valentine's day already.
Spring dates are booking up fast and before you know it I will be out on Texoma chasing big striper every day. My bait of choice in the spring time is a 5″ swim bait on a 1oz jighead. I will fish with any color as long as it is glow or chartreuse. On days when I have experienced anglers we will cast them but when my crew is lacking casting skills we troll them on spreader rigs.
Most days you need to concentrate on shallow structure in 10 – 25 foot of water. I describe structure as any difference in water depth like points and humps or a difference in bottom composition from the normal like gravel,rock,timber, and man made structures. While fishing structure always keep your eye open for working birds as that can happen anywhere at anytime in the spring. It's about to get serious up here on Texoma and I'm ready.
December 10, 2018
by Capt. Steve Barnes Lake Texoma Fishing Guide
Winter is here on Lake Texoma. Fishing has been good with the recent warm spell but larger fish have been a little scarce. The colder winter temperatures with chances of rain (or even snow) turn the big fish on so fish the Winter season on Texoma.
My cast nets are stored away till spring so we are fully committed to artificial baits for the next few months. Funny thing is I have more confidence in artificial baits over live bait during the colder months. My preferred method right now is deadsticking. Deadsticking is just what it sounds like. You drop a lure down to the fish and hold it still, only movement is the boat drifting wich should be about a half a mile per hour and not more than 1 mile per hour. Best lure is soft plastic fluke style bait on a 1 ounce jighead. Color can make some difference but as usual white, silver and chartreuse work best for me. I think the fish see contrast in color better than baits that are one color so if I have a chartreuse jighead I use a white or light colored fluke. White jighead I use chartreuse fluke.
Look for birds working to point you to the active fish. If no birds are working sometimes you can drift a area where fish have been feeding and get them to gather up under you by splashing the water or beating on the side of the boat. Some days the open water fish just will not cooperate and you gotta get out the swimbaits or just cast the flukes on the rocky shorelines till you find some active fish. Good luck and if your interested in a deadsticking book a trip with me and I'll teach you.
With winter weather setting in, arms are sore from reeling them in, lots of good box fish and over 20″ fish. Caught a few deadsticking but tore them up casting swimbaits. Big fish are on the move. Either way I'm busting out the full winter gear and going fishing with or without customers, yes it's that good.
October 31, 2018
by Capt. Steve Barnes Lake Texoma Fishing Guide
Fall fishing is in full swing at Lake Texoma and the fishing is great!
Lake levels continue to fall and should be back to normal in a few weeks. A couple of weeks ago we were 11 feet high but with the flood gate releases we are currently only 8 feet above normal and falling about 5 inches per day. It has been tough to find a boat ramp open but more ramps should be usable in the near future. I keep my boat in a slip at Lighthouse Marina so the flood has not impacted my ability to get on the water.
The main lake is pretty stained but the creek arms are clear. The striper don't seem to mind a little stain but it's best to look for them in the cleaner water. Watch for the birds. The last few weeks the fish under the working birds have been pretty small but as it gets colder bigger fish will show up in the schools under the birds.
Shallow water structure and rocky points 5-25 feet seem to be holding the larger fish but as the water cools everything should move deeper. Live shad is still best for putting limits in the boat but we are just a few cold fronts away from the time I switch to artificial baits. When it gets cold enough that you really don't want to get your hands wet in a bait tank that is usually time to make the switch. That's about it for now but my next report I'm hoping for normal lake levels, also look for more information on artificial lures as I make the switch.
October 10, 2018
by Capt. Steve Barnes Lake Texoma Striper Fishing Guide
Lake Texoma fishing has been very good this year, limits on every trip! But believe it or not it's about to get better. Fall is here and with lows dipping down into the 50's at night the water temp is dropping and the fish are getting more active. With each passing cold front we will get more and more gulls (birds) showing up on the lake that will lead us to schooling striper. Fall is one of my favorite times to fish on Lake Texoma, cooler temps, less boat traffic, and schooling fish so call me up and lets go catching.
Once you locate the fish you can catch them on live bait or lures. Topwater lures (like pencil poppers) will work good until the water temp drops down into the lower 60's then swim baits in a shad or minnow profile usually work better. My preferred swim bait is a 5″ shad body on a 1oz jig head in chartreuse glitter or glow. Live bait is king right now but as the water cools in November lures will usually out produce live bait.
Fall is one of my favorite times to fish on Lake Texoma, cooler temps,less boat traffic, and schooling fish so call me up and lets go catching.
September 6, 2018
by Capt. Steve Barnes Lake Texoma Striper Fishing Guide
Lake Texoma striper fishing is still going strong.
Live bait seems to be the best way to go right now. Small fish are abundant but better fish can be caught if you can find them. Striper move a lot this time of year and don't surface as much so finding them with sonar is key.
Cooler weather is just around the corner and that should get the big fish moving again. We might see some topwater action after we get a cold front or two. Birds will show up with cold fronts and the striper will go on a bigtime feed in November and December.
Capt. Steve Barnes
August 9, 2018
by Capt. Steve Barnes Lake Texoma Striper Fishing Guide
Striper fishing remains very good on Lake Texoma. We have been fishing live bait in 40 to 60 foot of water and catching limits every trip.
Fish have been pretty easy to catch but bait has been a little tough to catch and that's one more good reason to hire a guide.
Summer is winding down but it's not to late for a great striper trip on Lake Texoma.
Capt. Steve Barnes
July 18, 2018
by Capt. Steve Barnes Lake Texoma Striper Fishing Guide
Lake Texoma is in full summer fishing pattern and for me that means trolling. You can catch some striper early in the morning before sunrise running close to the bank throwing top water or swim baits but once the sun starts to come up look for them schooling in open water — they won't stay up long so better get them while it's hot because once they go down they get a little tougher to track and catch.
If trolling is not your thing you can still catch them on slabs and live bait out in the open water but, for me, trolling consistently puts bigger fish in the boat when the fish are schooled up and running fast. Boats really stack up on these fast moving schools of fish this time of year.
Trollers don't like bait fishermen sitting in the way and bait fishermen don't like trollers passing so close but that's Lake Texoma in the summer time and there is no sense fussing about it. Good Luck and stay safe.
Capt. Steve Barnes
June 28, 2018
by Capt. Steve Barnes Lake Texoma Striper Fishing Guide
Fishing has been crazy the last couple of weeks. Depending on the day and even the time of day it has been anywhere from great to poor.
Fish are roaming around in the deeper water and sometimes they will eat while other times they will not. Best bet is to be mobile and look for active fish, that means looking for surfacing fish and working birds.
Slabs, swim baits, top water, trolling and live bait have been working but the key is to keep moving and stay in the fish. Lots of boats on the lake so lets all play nice and remember they are only fish.
June 12, 2018
by Capt. Steve Barnes Lake Texoma Striper Fishing Guide
Fishing on Lake Texoma has been outstanding the past few weeks and continues to be very good.
The most consistent action has been on live shad in 40-80 foot water sometimes dropping baits to 70 foot but there is also plenty of fish that can be caught on topwater, swimbaits and slabs.
Fish were schooling up real good but the last few days they have just been cruising around in deep water and live bait has been key to catching those fish. Also noticed today that baits were dying faster dropping them down more than 40 feet and that's a sure sign that the lake is starting to stratify.
Catching bait has really been tough the past week, another good reason to hire a guide.
Capt. Steve Barnes
May 22, 2018
by Capt. Steve Barnes Lake Texoma Striper Fishing Guide
This is the time of year for less experienced anglers to get in on the action. May and June are prime time for fishing live bait and limits of fish can be expected on almost every trip.
Plenty of hungry striper out in the deeper water from 25-70 foot so you can just drop live shad straight down, no casting required. Striper population is VERY healthy this year with lots of 18-19 inch box fish and lots of over 20″ fish up to 12 lbs.
Action is fast and furious with a whole lot of catching and not much fishing.
May 5, 2018
by Capt. Steve Barnes Lake Texoma Striper Guide
Looks like we have finally moved into the catching season where limits of striper can be expected on almost every trip!
Fish have moved up on ledges , humps, and points from 3-40 foot water depths. I'm leaning towards live bait as the preferred method now but you can still catch them in shallow water on swim baits and topwater lures, I have also heard of a few people having some success on slabs. May and June are usually prime time for striper fishing on Texoma, especially for kids and inexperienced anglers, and this year seems to be right on track. FYI big fish should show up in another week or so when they return from spawning up river.
Texoma premier guides book up quick for May and June so get booked now!!!!
April 20, 2018
by Capt. Steve Barnes Lake Texoma Striper Guide
Fishing has been pretty tough with the wind and below average temps but it can't stay windy and cold forever so we have some great fishing to look forward to.
I believe a good number of our larger fish have moved from the lake up into the Red and Washita rivers to spawn, they usually show up back in the lake about the second week of May.
Fishing is really hit and miss with the weather right now and many days have just been unfishable because of the extremely high winds. Its gonna be great fishing when we get a more stable weather pattern so we just have to be patient. Fish are anywhere from 10-60 foot of water but as a general rule the shallower you can find them the easier they are to catch and keep your eyes open for working birds. Live bait and artificial bait are both effective right now and topwater bite might happen in a couple more weeks. Its gonna be a season for the record books but we gotta get a warmer more stable weather pattern. Come on May !!!
April 3, 2018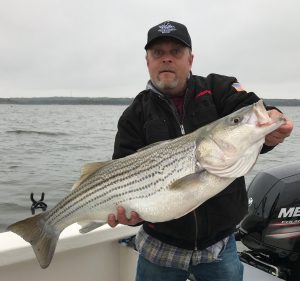 by Lake Texoma Striper Guide – Capt. Steve Barnes
… Lake Texoma Fishing Report Tuesday April 3,2018. Lake elevation is 616.51 and water temp at the dam is 58 degrees. Fishing this time of year is up and down much like the weather but it's like anything else in life you have to take a risk for the big rewards.
May and June are usually a sure thing but if you are looking for the biggest striper of the year late February-mid April is usually your best shot at a trophy size pre-spawn striper. Fishing has been very good on Texoma the past few weeks for big fish and numbers have also increased over the last few days. This time of year fish can be any depth and anywhere on the lake so you just have to put in your time and take a chance.
I prefer 5′ swim baits in glow and chartreuse color this time of year but live bait can also be effective so for your best chance at a Texoma trophy striper book your trip now with your favorite Lake Texoma Striper guide and if you don't have a favorite do your homework before you choose one.
Take a chance and you just might be rewarded with a fish like this 20.5 lb that we caught April 2nd.
Good Luck !!!
March 20, 2018
by Lake Texoma Fishing Guide – Capt Steve Barnes
Lake elevation is 616.62 and water temp has warmed up to 57 degrees. With the water heating up the striper fishing just keeps getting better and should continue to improve as water temp rises more. Limits of box fish (striper under 20″) are being caught drifting live shad in the river channel and up on the flats.
Larger fish are in a pre-spawn pattern and staged up on shallow structure in 10-25 foot. Lots of big striper caught last week and the pattern should hold thru early April. Trolling and casting swimbaits and A-rigs in the usual colors,chartruse and glow.
Most of the action is midlake since upper ends of the lake are still pretty muddy. Flood gates are open releasing 6,0590 cubic feet a second but with the current lake level I look for gates to be closed at anytime and water should clear up on the upper ends but since it is spring time we could get more rain and more stained water.
2018 look so be the best fishing we have had since 2014 so get your Lake Texoma striper guide trip booked today.
February 28, 2018
by Capt. Steve Barnes Texoma Striper Guide
Texoma striper fishing slowed down during late Feb, But Spring is about here and fishing should improve a great deal. We need the water temp to move up in 50+ degree area — Currently it is in the 40s. As it warms up the bait fish (shad) will move to shallower water around the flats and humps.
With Spring, we can catch stripers on pretty much any lure — swimbaits, jigs, Umbrella-rigs and live shad. If you catch the fish in deeper water try drifting live shad through the holding areas. But, it easier and faster if you can find fish in the shallows because they move in groves to the flats to feed on baitfish. Striper are much more aggressive in the slallows.
2018 looks to be a great year for striper fishing on Lake Texoma.
A TPWD recent gill-net survey show the striper population increasing over previous years with a good number of 20 inch fish. TPWD biologists also said the 2017 survey had the highest growth rate ever recorded on Lake Texoma.
Get Fishing!