Blacktip
Fished off shore today, the wind was blowing and it was rough but we made it out and caught a few fish. Started off with a couple of nice sharks ,one blacktip and one bull. We did not find much for the next few hours so we ended up bottom fishing and caught a few mangrove, lane, and vermillion snapper. The forecast is calling for calm seas for most of next week but I don't have another group till next Sunday.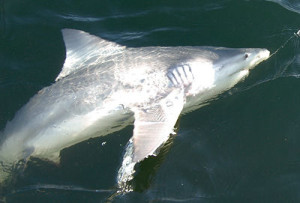 Great day on the beach front with all the black tip sharks you wanted to catch, last shark of the day was another big bull that took one full hour to get to the boat, it was about 8 foot and probably weighed about 300 LBS. Found a school of tarpon on the way in and jumped 4 caught 2. The tarpon have finally showed up so its on now.
Shark fishing again today and it was all you wanted to catch on black tips up to 6 foot..